The Centre for Rural Development in Central Vietnam (CRD) and the University of Hannover (Germany) are jointly conducting a project entitled "Poverty dynamics and sustainable development" with a total budget of over 1.9 billion dongs. The project was launched from April 1 2016 with a series of activities namely training for enumerators, household interview and data cleaning.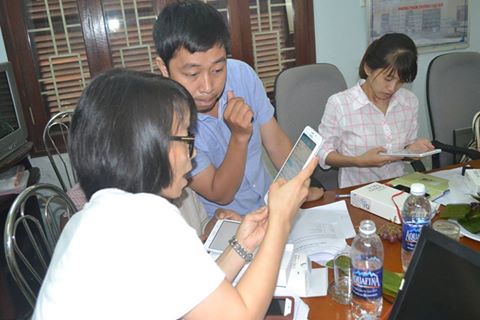 The team leaders learnt how to use the tablets for data entry
While in advanced economies multipurpose panel data have existed for some time, there are hardly any comparable data sets for developing and emerging countries; as a result, many critical research questions about trends and drivers of long-term development in these dynamic societies cannot be addressed easily. To partly remedy this serious gap, a research on "Impact of shocks on the vulnerability to poverty: consequences for the development of emerging Southeast Asian Economies" was implemented from 2007 to 2013 to establish a unique panel database of some 4400 rural households with some 22,000 individuals in 440 villages, distributed over six provinces in Thailand and Vietnam. The research project on "Poverty dynamics and sustainable development" uses the outcomes of the above-mentioned project as a starting point and undertakes researches to generate a much deeper understanding of income and poverty dynamics in rural areas of rapidly changing emerging economies in Thailand and Vietnam.
In Vietnam, the project will carry out researches in 30 districts of 03 Central provinces, namely Ha Tinh. Thua Thien Hue and Dak Lak from April 2016 to March 2018. The project aims at establishing a high-quality long-term data panel on poverty dynamics and sustainable development; providing data and making them accessible to an international community of researchers and policy-makers; creating high level journal publications; and promoting advances in researching for researchers and research institutes in Vietnam.
By continuing the panel database and by extending the survey, the project will, in cooperation with selected research partners worldwide, enable and carry out research on long-term welfare dynamics, rural-urban migration, agricultural transformation and intergenerational aspects of households as well as on the long-term impacts of development interventions. The project has already received over forty formal requests from research organizations and researchers to use the existing and the extended panel data sets. It is expected that the scientific output generated on the basis of the data set will make a significant and internationally highly recognizable contribution to science and policy in the fields of development and agricultural economics.
Bao Hoa