Ms. Nguyen Thi Ngoc Anh (37 years old) is a mother who learnt how to change for the happiness of her children after becoming a core member of the Good Parents Club of Kim Long Ward (Hue City), despite the previous habit of scolding and whipping. To Ngoc Anh at present, "Children are to be loved even when they misbehaved!"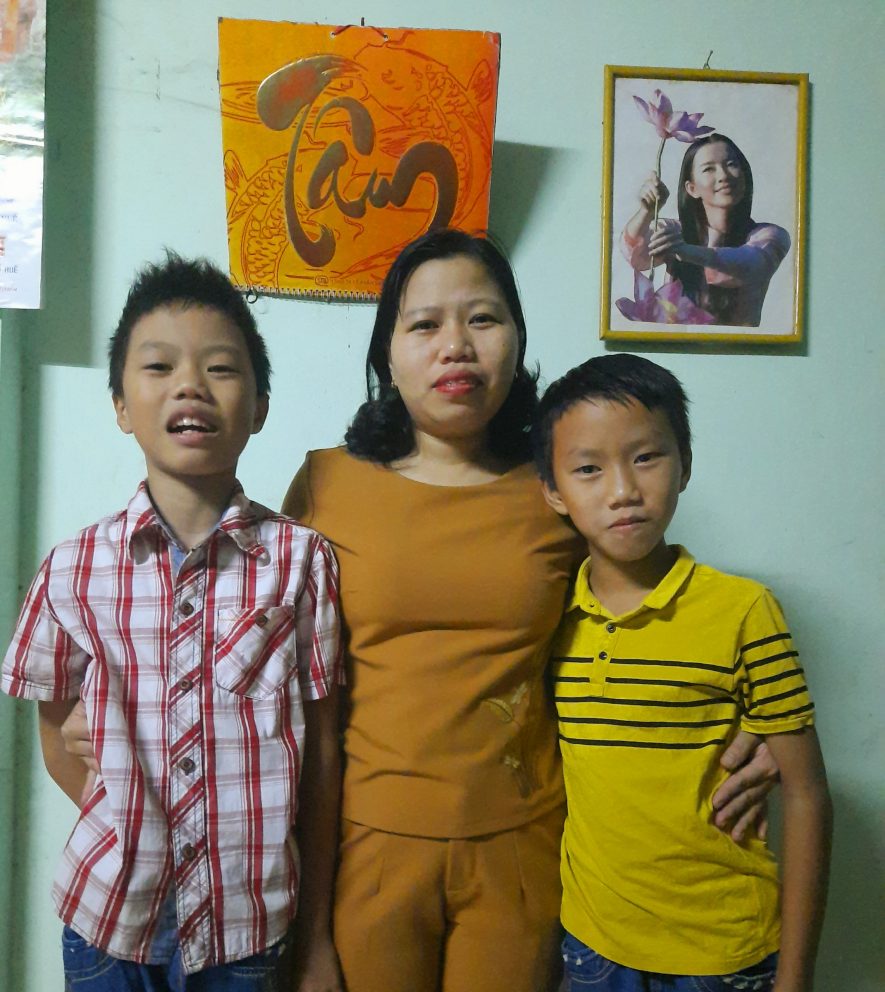 Whip marks and a mom's resentment
Ms. Ngoc Anh has two sons, a ten-year-old and a nine-year-old, who, in her opinion, were as naughty as little devils. "They teased each other and went into a fight many times. The whips are often used when I am under pressure or frustration. Once, I asked the kid to study but he refused and continued playing around despite my warning words. Losing my temper, I kept screaming. I was so helpless that all I could do was whipping him angrily. I didn't call him darling anymore. Being smacked, he burst into tears resentfully and hid himself in his room without saying a word and kept distance with me days later. I seemed to be a stranger to him, not his loving mom anymore; and it seemed that he no longer felt safe when I was around."
"I have imposed and smacked my sons like that many times. A whip is always available in my house. The kids cried when whipped, but still repeat their misbehaviors or bad habits. I felt hurt also. However, I did not know what else to do with them", the young mother's voice choked.
Whips replaced with love
In 2018, Ngoc Anh was invited to take part in the Good Parenting Club initiated and facilitated by the Center for Rural Development in Central Vietnam (CRD) in collaboration with Thua Thien Hue Association of Children's Rights Protection under the SC-funded project "Strengthening the capacity of civil society organizations on child rights governance". The club consisted of other parents in her resident, and some of them were core members of the Women's and the Youth's Unions. The club members were also invited to training classes in Physical and Humiliating Punishment and Positive Discipline, through which for the very first time in her life did she come to realize she totally could be able to educate her kids without rods or whips. After the trainings, she voluntarily enrolled in the Good Parenting Club.
At first, she had trouble in controlling her temper when facing her children's bad behaviors, but she practiced step by step. After getting used to keeping the temper under control, she began to talk more with the children instead of whipping, scolding or shouting at them until no longer doing that at present. "When the kids misbehave, I take a deep breath and tell myself to calm down, and then explain and tell them right from wrong. Now, I understand the reason why they were really upset and rebellious was because they did not know why I hit them. The kids are now no longer panicking, and I am relieving the stress of screaming", laughed she.
Spreading love to community 
Ngọc Anh's eyes sparkle when telling stories about her efforts to help the people around her, from the mother who often smacked her preschool aged child when he refused to eat to the 3 poor children unschooling due to the lack of birth certificate. Ngoc Anh and other club members have proposed to the Ward People's Committee to coordinate with the Neighborhood Group to support the family in birth certificates registration so that the children could later be able to go to school like others.
"In 2019, we proposed to the local authorities to collaborate with the Ward's Youth Union to renovate a playground at Ly Nam De cultural house with soccer fields and swings for children to play, avoiding gathering in internet cafes. This helps children away from being addicted to video games and therefore they will not be scolded and punished by parents".
"I think that children always need to be loved even when they make mistakes, so that after all what they receive is not a whip but a lesson: what they have done wrong and how to fix it."
Ms. Tran Thi Le, Vice Chairman of the People's Committee of Kim Long Ward said that the Parenting Club had not only helped members understand more about law, but also equipped them with knowledge, skills and inspiration to become active propagandists in the community. This helps reduce domestic violence, and physical and mental child abuse. The Ward has also noted to integrate this content into conferences, meetings, exchanges and planning, etc. to strengthen its cultural lifestyle.
Bao Hoa