From 16 to 17 November 2015, a training course on "Issues relating to EU's FLEGT Action Plan" successfully took place in Danang City.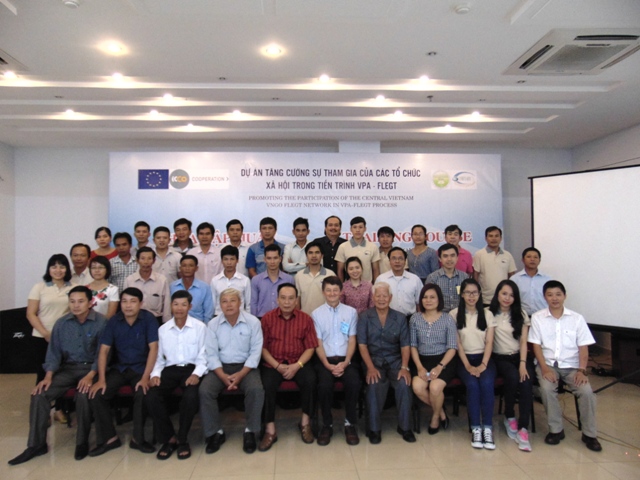 The training course was jointly held by Project "Promoting the participation of the central Vietnam VNGO-FLEGT Network in the VPA-FLEGT processes" and the Centre for Rural Development in Central Vietnam (CRD).
The activity attracted over 30 participants from various organizations such as Depart ment of Forest Protection, community-based organizations (CBOs) whose livelihoods depends on forest resources, civil society organizations (CSOs), research institutes and so on. Dr. Michael Richards from Forest Trends was the senior trainer of the course.
The training focused on the issues relating to the EU's FLEGT Action Plan such as: introduction about FLEGT/VPA, legal timber definition, Timber legality assurance systems (TLAS), timber supply chain, monitoring system, VPA negotiation process, the roles of CSOs, experience from other countries during the implementation, recommendations for better enforcement in Vietnam, etc.
The topics for group discussion such as: the participation of CSOs in legal timber definition, identifying problems in monitoring of forest law enforcement in Vietnam, etc. helped the participants better understand VPA/ FLEGT as well as their role during the process.
The 02-day training course was evaluated as successful, meeting the participants' expectations and achieved expected results. Most of the participants found the course interesting and informative.
On 18-19/11, it is expected that the training workshop on "The social political factors restricting the participation of civil society organizations in VPA/FLEGT process" held also by the project will be even more interesting and useful.
Some pictures of the training course:
Do Cao Anh