On May 15, 2015, the Centre for Rural Development in Central Vietnam invited Mr. John Tapper from Australian Business Volunteers to share experiences in establishing and running a social enterprise.
As an experienced specialist, Mr. John shared a lot of valuable knowledge about 03 main themes: (1) Current business models in Vietnam and in the world: Advantages and difficulties, (2) Characteristics of a Social enterprise, (3) Establishment and operation of a Social enterprise. The participants had an opportunity not only to get more insights into the very new fields CRD was implementing but also to practice communicating in English.
It is expected that the Social Enterprise Unit of CRD will continue to hold other experience sharing on this field with the support from Mr. John.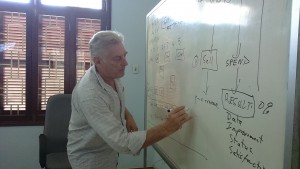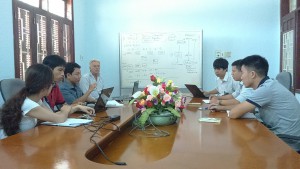 Mr. John Tapper presenting components of a business

The members of the Social Enterprise Unit of CRD  excitedly discussing.
Do Cao Anh
Top of Form