"Creativity requires the courage to let go of certainties" (Erich Fromm). The certainty that the people in Phong My Commune, Phong Dien District, take in peanut production was buying seeds from Nghe An or from the Highlands. However, in this summer-autumn crop, Hoa My Cooperative introduced an initiative on offseason peanut production in order to reduce cost and guarantee sources of seeds. Up to date the initiative has started to be fruitful.  
Smiles in peanut fields 
The unusual heat of late September seemed not to effect the development of 1,500m2 peanut field of Ms. Ho Thi Hanh's family supported by the Project "Enhancing the effectiveness of the National New Rural Development Program in Thua Thien Hue Province". The project was funded by Irish AID and implemented by the Centre for Rural Development in Central Vietnam.
"The peanuts are hard, if used as seeds for the next crop, they will surely bring about great productivity", said excitedly Mr. Nguyen Ngoc Thanh as he showed the peanuts he had pulled up to others.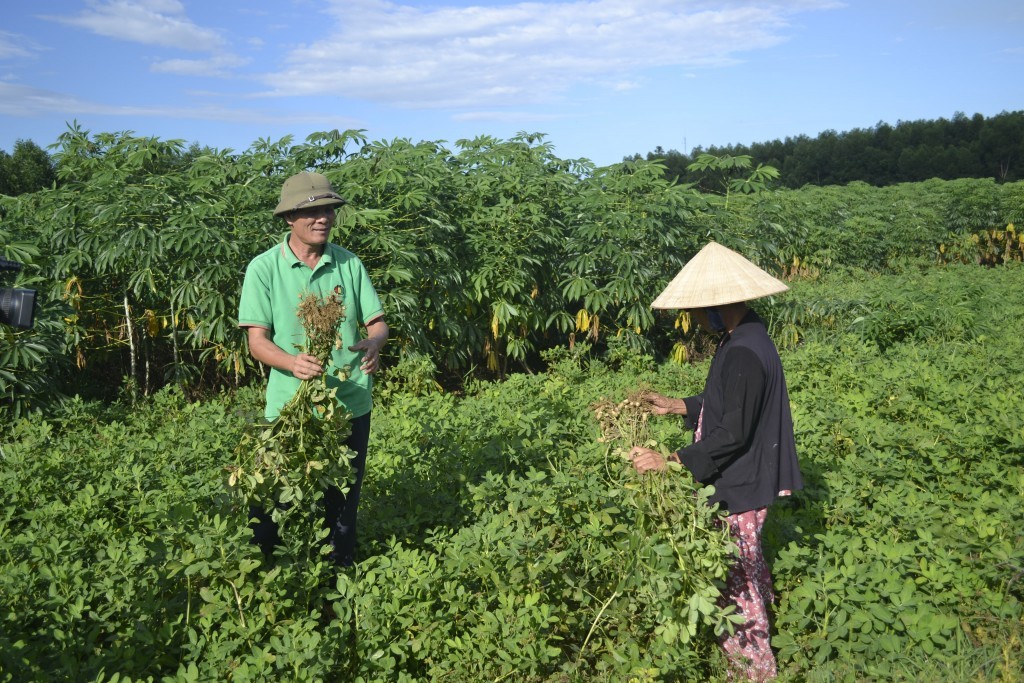 According to Ms. Hanh, annually she had to purchase 40 kg of peanut seeds from Dak Lak which cost nearly 02 million VND yet the quality was unstable.
Mr. Ngo Van Phan, Head of Cooperative revealed that the Cooperative spent 160 – 200 million dongs annually on purchase of peanut seeds. Due to severe weather condition, peanuts cannot be grown in summer-autumn crop, yet if preserved for the next crop, the seeds health will be reduced. Therefore, the poor farmers in Phong My commune not only spend a large amount of money on inputs but also confront various risks during their production.
"The productivity in fields with enough water reached 40-50 kg/350 m², and that in fields with water deficiency is 30 -40 kg/ kg/350 m². Thus, once the yield is maintained, not only the problem of seeds will be sold but a new business orientation can also opens as the seed demand in the area is actually high", said Mr. Hoang Tien, a local farmer.
"Never give up no matter how hard it gets"
The model of peanut seed production received seeds, fertilizers and production technical support from the project. Peanut seeds are sown when the outside temperature is 40-42 °C mid-June. After being unsuccessful for several times, the farmers still nourish their hope for a better crop with the seeds they keep on their own.
Mr. Ngo Thanh Tranh from Phong My commune said: "After Tet Holiday, my family often has financial difficulties. Despite all that, we have to spend up to 7 million dongs on purchase of seeds. Sometimes we had to borrow money since we could not afford that cost. In addition, the impact of climate change makes it difficult for all kinds of plants to survive, let alone peanuts. However, we have to go on and never give up no matter how hard it gets. We farmers are looking forwards to having a peanut dryer machine to preserve seeds for next crops, as the harvest time falls on rainy season." After the 2nd time of sowing, Mr. Tranh's family harvested    35kg of peanuts/350 m².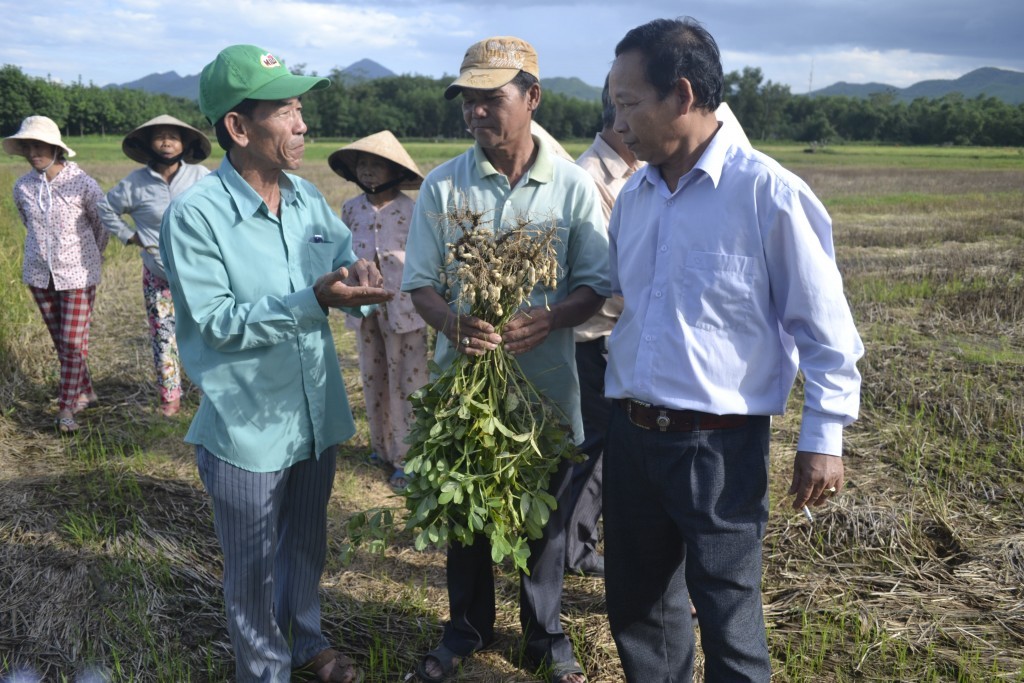 These positive outcomes would not have been achieved if the farmers kept their old production habits and used available models introduced by the project as before. The fruits of the initiatives actually came from the aspirations, non-stop effort and expectations of the people in Phong My commune.
Bao Hoa